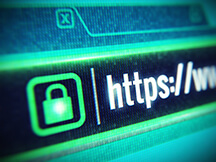 Having the HTTPS designation on your dental website is now becoming more important to Google, the #1 search engine. Google posted this position statement on their Google Search Console Help page:
"HTTPS (Hypertext Transfer Protocol Secure) is an internet communication protocol that protects the integrity and confidentiality of data between the user's computer and the site. Users expect a secure and private online experience when using a website. We encourage you to adopt HTTPS in order to protect your users' connection to your website, regardless of the content on the site."
Why does this matter for your dental website?
In 2017, Google is returning page-1 positioning for websites that are HTTPS.  Dr. Peter J. Meyers at MOZ reported that "Projecting the fairly stable trend line forward, the data suggests that HTTPS could hit about 65% of page-1 results by the end of 2017.  I've speculated previously that, as the adoption rate increased, Google would have more freedom to bump up the algorithmic (i.e. ranking) boost for HTTPS pages." Read his entire article……
What should a dentist do to secure his/her dental website?
An easy way to do this is to contact your website hosting company and ask them to make your website secure by adopting an HTTPS or SSL certificate for your website.  At GoDaddy for example, SSL certificates cost between $59/year to $299.99/year.  Contact Godaddy or your hosting provider to learn how you can add security to your website.
Need help?  Contact Sharon Kantor Bogetz at Cutting Edge Practice.  She can help you through the process.